Students have the opportunity to further master skills taught in their private lessons. Through games and fun activities, children learn to play together as a group and benefit from the full range of exercises prescribed in the Suzuki Method. Great for Orchestra Prep. Option to play a HOLIDAY CONCERT AT Gigi's Playhouse! Also will perform at our Winter Recital.
Theory Book 1 10:00-11:00
Group Violin 11:00-12:00
Theory Book 2 12:00-1:00
*Feel free to drop off or STAY!
Class Runs: SUNDAY October 7th (due to a Suzuki Workshop we are attending in Chapel Hill) Saturday November 3rd and Saturday December 1st.
Teaching through group games, repetition, and mimicry, this course offers a unique opportunity to expand on topics covered in private lessons. We will cultivates a fluency in the structure of sound through introductions to solfege, different approaches to rhythm, and exploring notation and music writing. All music will come from our Book 1 level repeitoire. There will be a group performance at the Winter Recital.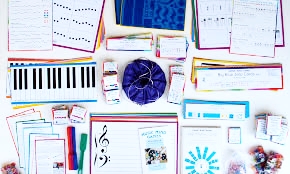 The same basic concept as Theory Book 1, but students will go deeper into music notation, key signature, time signature and many other techniques that will help them prepare for their first SONATINA at the end of Book 2! We will also prepare a special performance for the Winter Recital.